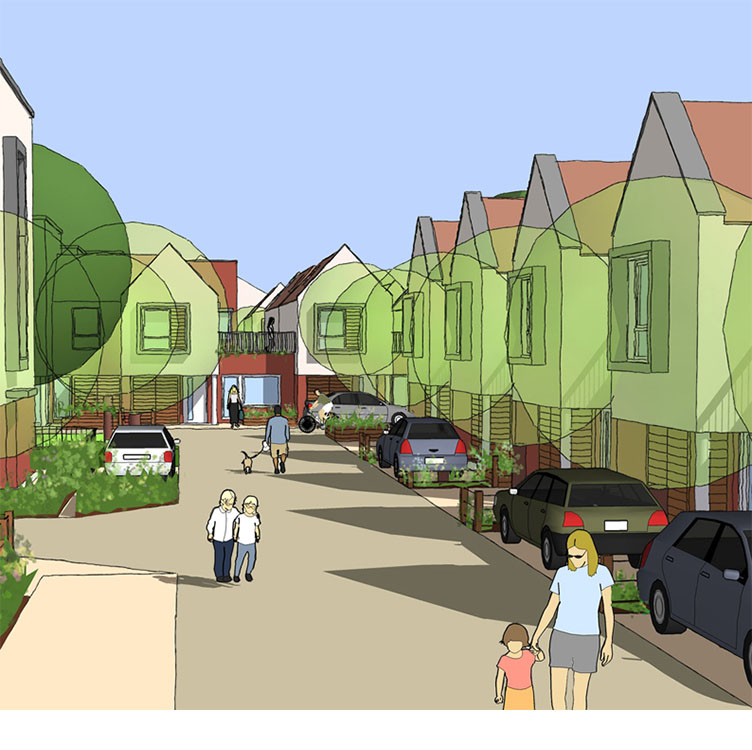 Pelican Drive
Rayners Lane Harrow
Part of the Rayners Lane Estate regeneration, Pelican Drive comprises of 19 houses and 9 apartments for sale.
The project helps ensure that the regeneration is a mixed tenure scheme as a key ingredient of achieving sustainable communities and an important factor in ensuring the success of the development.
Intended as 'starter homes' each of the houses is based on a wide fronted courtyard typology providing a small courtyard garden together with a roof terrace at first floor level, a private front garden space and an off-street car parking space.
The houses are designed so that the rooms either face outwards towards the street or inwards towards the private courtyard. Consequently, the houses can be placed closer together and also closer to the boundary with other properties without compromising privacy thus taking up a smaller plot and making better use of the site than a more traditional house with garden.
The houses have been designed to have an integrated external store at the front of the dwelling that provides space for bins and bicycles.
The project forms part of 'The Spectrum London' winner of the Affordable Home Ownership Awards 2012 'Best Regeneration Project'.